(Before It's News)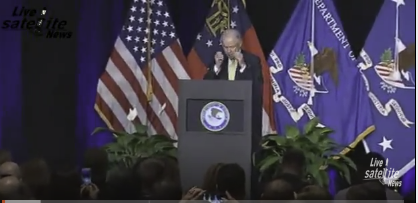 On Tuesday June 6,2017, In Atlanta, GA, Attorney General Sessions spoke to 1,500 Law Enforcement Officials and victim support councils that had gathered at the National Law Enforcement Conference On Human Exploitation. During Sessions Speech he laid out a clear message that President Trump was no longer going to tolerate Pedophiles trafficking children. Unlike previous Attorney Generals who would actually cover for high profile pedophiles, Sessions declared that stopping child abuse,and child exploitation by way of prosecution would be his top priority. 
"I know from my experience working these cases in Alabama that you are stopping people [who], if not stopped, will continue to abuse more and more people. A lot of people don't like incarceration. But the reality is, and I wish it weren't so, that incarceration seems to be in many cases the only thing that would protect children….
Child abuse and child exploitation cases are a high priority for me as United States Attorney and they will be a high priority now for me as Attorney General. And I want you to know that we can, we are now, and we will continue. You will make a difference in this fight and protect children that need to be protected and deserve our protection in every single way…."
http://investmentwatchblog.com/attorney-general-jeff-sessions-fight...
https://www.youtube.com/embed/0HqtCV9eZAk
http://thepetesantillishow.com
https://www.facebook.com/petesantillinotguilty/
http://thepetesantillishow.com/donate/
Source Before it's News