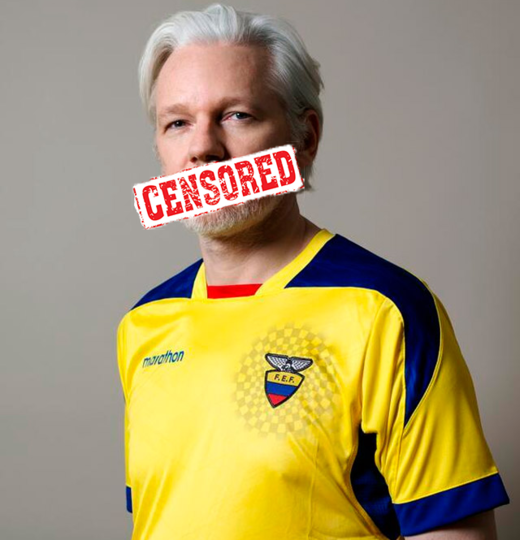 Julian Assange is perhaps the greatest freedom fighter of our time leading the information war against corrupt governments and corporations.
All people who support accountability of corrupt governments and corporations can appreciate the service Wikileaks provides to the entire world.
Julian Assange has been the leader of that organization since he founded it in 2006. Unfortunately our hero might be in for some trouble.
The government of Ecuador, which has provided Assange with political Asylum since 2012, has cut off his communications and recently announced negotiations with the UK over Assange's status.
This is a completely shocking betrayal.
Back during the 2017 Ecuadorian elections the conservative candidate Guillermo Lasso advocated handing over Assange, while the socialist candidate Lenin Moreno ran on granting Assange continued Asylum. Lenin Moreno won the election and Assange seemed safe until now.
In fact Assange was granted Ecuadorian Citizenship in December 2017.
But now things have taken a very scary turn for the worse.
Consortium News
reports
:
Julian Assange is in immense danger. Remarks made this week by Ecuador's foreign minister suggest that her government may be preparing to renege on the political asylum it granted to the WikiLeaks editor in 2012 and hand him over to British and then American authorities.

On March 28, under immense pressure from the British and U.S. governments, Ecuador imposed a complete ban on Assange having any Internet or phone contact with the outside world, and blocked his friends and supporters from physically visiting him. For 46 days, he has not been heard from.

Ecuadorian Foreign Minister Maria Fernanda Espinosa stated in a Spanish-language interview on Wednesday that her government and Britain "have the intention and the interest that this be resolved." Moves were underway, she said, to reach a "definite agreement" on Assange.

If Assange falls into the hands of the British state, he faces being turned over to the U.S. Last year, U.S. Attorney General Jeff Sessions stated that putting Assange on trial for espionage was a "priority." CIA director Mike Pompeo, now secretary of state, asserted that WikiLeaks was a "non-state hostile intelligence service."

In 2010, WikiLeaks courageously published information leaked by then Private Bradley [now Chelsea] Manning that exposed war crimes committed by American forces in Iraq and Afghanistan. WikiLeaks also published, in partnership with some of the world's major newspapers, tens of thousands of secret diplomatic cables, exposing the daily anti-democratic intrigues of U.S. imperialism and numerous other governments.

For that, Assange was relentlessly persecuted by the Obama administration. By November 2010, it had convened a secret grand jury and had a warrant issued for his arrest on charges of espionage-charges that can carry the death sentence. The then Labor Party government in Australia headed by Prime Minister Julia Gillard threw Assange, an Australian citizen, to the wolves. It refused to provide him any defense and declared it would work with the U.S. to have him detained and put on trial.

On June 19, 2012, under conditions in which he faced extradition to Sweden to answer questions over fabricated allegations of sexual assault, and the prospect of rendition to the United States, Assange sought asylum in the Ecuador's embassy in London.

Since that time, for nearly six years, he has been largely confined to a small room with no direct sunlight. He has been prevented from leaving, even to obtain medical treatment, by the British government's insistence it will arrest him for breaching bail as soon as he sets foot outside the embassy.

Silenced

Now, for six weeks and three days, he has been denied even the right to communicate