• Max Key (NZ Primsinsiter John Keys son) and a club of 'elite' aspiring entrepreneurs have turned partying into a business

• Girl-on-girl make out sessions and online misogyny credited as "good marketing"

• Does this indicate a future New Zealand where affluence is the only key to cool?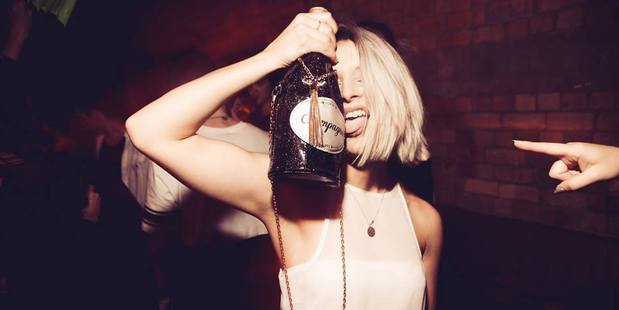 An event hosted by The Fulltimer Society. Photo / Facebook
I sidle up to Lad X, a young man seated in a booth sipping an overtly masculine drink. Lad X and I are attending a weekly event at the Roxy called Houseparty because - even though there is no house and, as of yet, no party - why not? It's past midnight on Wednesday night (student night) but it's still too soon for him to venture onto the dancefloor. I introduce myself and cut to the chase: does he come here often?
Yes, he tells me, he does.
I've found a live one. Lad X appears to be one of the disciples of the 'The Fulltimers society', an all-male gang of predominantly students in their early 20s - and the hosts of tonight's event. They united/were recruited if they had A. ever modeled or B. were widely connected in the nouveau-riche Auckland social scene - the latter applying to the likes of the Prime Minister's son, Fulltimer Max Key.
I casually venture my next question, so, Lad X what do you think of The Fulltimers?
He casts a sideways glance at the boys and buckets of Veuve, each flanked by girls in gravity defying dresses.
"You don't want to know what I think of them," he scoffs, "they're a bunch of a***holes."
This throws me off guard. Surely if he dislikes The Fulltimers Society so much, he wouldn't come to their parties where, by definition, Fulltimers will surely be?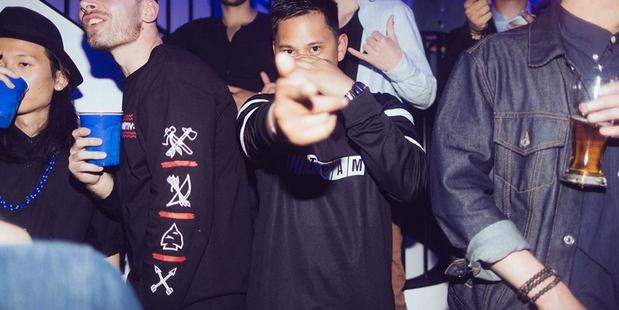 An event hosted by the Fulltimer Society. Photo / Facebook