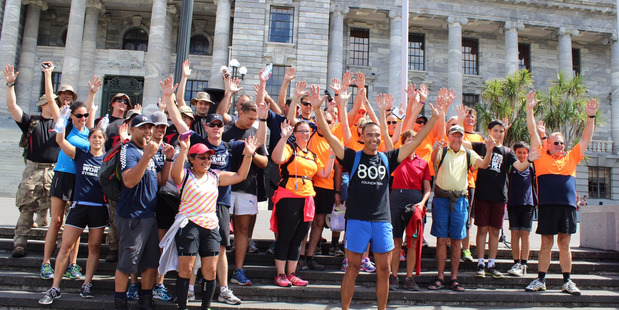 Anton Kuraia celebrates on the steps of parliament with supporters and family after a 809km walk from Whangarei to raise awareness and funds for alternative cancer treatments. PHOTO/ Kristin Edge.
Dressed in his best police number ones Constable Anton Kuraia logged off his final shift as colleagues, family and friends celebrated his life yesterday.The 46-year-old was given a full police farewell with colleagues forming a guard of honour for his final journey.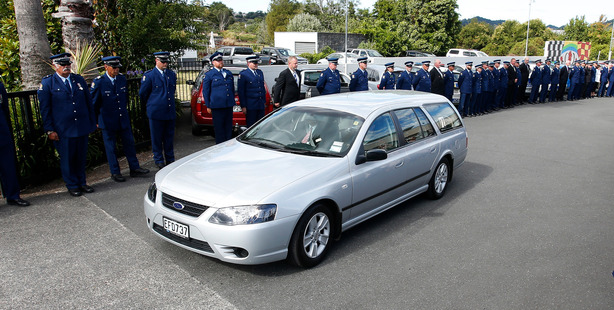 Anton Kuraia was given a full police farewell. PHOTO/ Michael Cunningham

The police hat he wore during eight years on the beat sat atop the coffin draped with a New Zealand police flag as those gathered laughed and cried as memories of Mr Kuraia were shared.
Mr Kuraia was diagnosed in April 2013 with acute myeloid leukemia - a type of blood cancer usually fatal within a few months. After doctors sent him home with only months to live he turned to natural alternatives.
He changed his diet to healthy juices, took intravenous vitamin C and 10 weeks later a bone marrow biopsy showed a complete remission of the cancer.
It was last April that he relapsed and finally ended his battle last Saturday.
Dr Damien Wojcik, who encouraged the vitamin C treatment and worked with Mr Kuraia for three years, said he became a symbol of hope and was a true hero.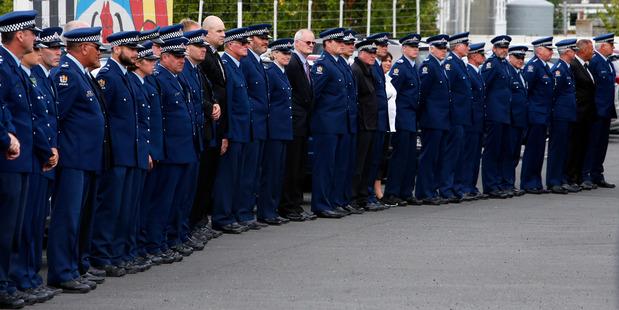 "He lived a brilliant life and lived fully despite the shadow of cancer. I called him my Lazarus after the first remission."
Dr Wojcik said Mr Kuraia drew the best out of him and his staff.
It was after the cancer went into remission Mr Kuraia found the strength to embark on his Walk of Hope to raise funds for The 809 Foundation he created in 2015
It was a walk that took him from Whangarei police station to the steps of Parliament and along the way created an awareness and funds for cancer survivors who had come out of the hospital system looking to try something different.
Northland police Superintendent Russell Le Prou said Mr Kuraia was an inspiration and a selfless person, descriptions that was repeated through out the service.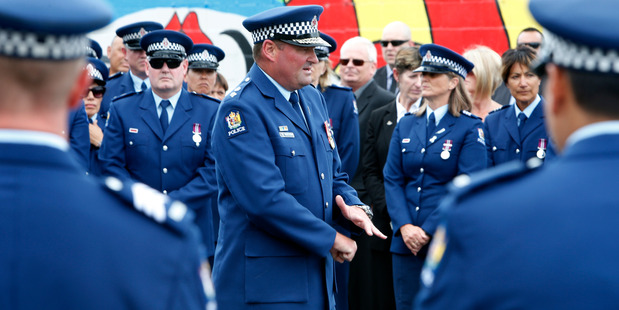 Northland police Superintendent Russell Le Prou said Mr Kuraia was an inspiration and a selfless person, descriptions that was repeated throughout the the service. PHOTO/ Michael Cunningham

Mr Le Prou said the walk had tested Mr Kuraia mentally, physically and "there were no chinks in his armour".
Mr Kuraia was loyal to a fault and when he tried to resign Mr Le Prou said the resignation letter was torn up.
"He completed eight years of valued service to the community and no one of us can underestimate his contribution to the community."
In light of the Government's promise to fund 880 more cops, Mr Le Prou said in Northland he wanted to recruit 150 "Antons and Antonesses".
He acknowledged that Mr Kuraia's wife Louise had been his rock and was an unsung hero.
Mr Le Prou read a letter from former police commissioner Peter Marshall, who had visited Mr Kuraia when he first became sick and formed a special bond with the family, and said Mr Kuraia would always be remembered.
His three sons - Sebastian, Julius and Luca - all spoke and recalled stories about their dad which had those gathered laughing and crying. Their tributes would have made their dad proud.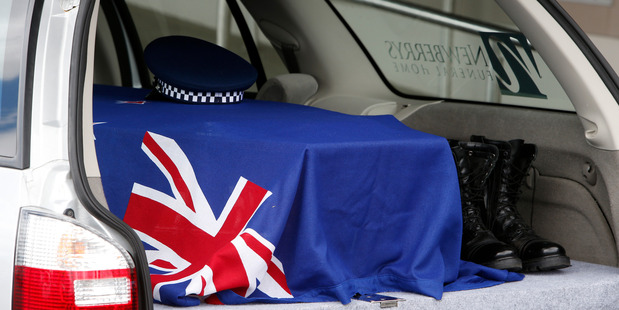 Anton Kuraia on his final journey. PHOTO/ Michael Cunningham

They particularly remembered his passion for golf and when he was a stay at home dad before joining the police how he bribed them with cookies to keep them happy on the golf course while he practised his swing.
Former Whangarei police sergeant and golfing buddy Nira Kingi said when he first met Mr Kuraia he thought "this dude has a good vibe about him".
Over the years they played many golf courses and Mr Kingi supported Mr Kuraia's decision to join the police.
He also helped him create The 809 Foundation.
"Anton thought if he could help others who had no other help he could do it."
Placing his own medal for good service and conduct awarded after 14 years in the police on the coffin, Mr Kingi said: "It's time to stand down, go 10-0, end your shift. You have walked the streets of hell, now rest in peace".